Heartbeats of Africa is a company working with traditional African Cultural Arts. We aim to promote the richness of the African Culture. Incorporating traditional drumming rhythms and dance and with acrobatics and related topics. Through performance and workshops we like to encourage participation and involvement, spreading the infectious rhythms and joy of the African culture. We plan cultural trips to Ghana and supply African Instruments and Artefacts, cloth and jewellery etc.
Entertainment and Performance
We can provide an African Music Band, Traditional African Drummers and Dancers, Traditional Acrobatic Fire Show. The show can be tailored to the size of the venue and the occasion.
Educational Workshops Performance/Demonstrations
Dance Workshops We work with traditional African Dances, and can adapt them to suit the needs of the participants and curriculum. We can incorporate traditional songs and games along with dance costumes and have a number of Ghanaian made raffia skirts for the pupils to try out. Our workshops are tailored to suit the needs of all age groups and abilities. Numbers in class - no limit (apart from dance space and health and safety)
Drum Workshops
We teach mainly palm drumming, using traditional African drum rhythms and adapting them to the ability and age of the students. Number of students - We can provide a large number of drums with additional bells and shakers.
Corporate Team Building and Empowerment Workshops

Artist
Jenny Suleman - Director - Jenny has been studying and performing African dance and drumming in Ghana and the UK for the last 20 years. Performing with Alaha and Baddoo International and Akwaaba Arts. She has been teaching a wide spectrum of students across the UK. From infants to adults and students with special needs. Other professional Traditional African Drummers, Dancers & Acrobats are engaged when required.
In addition Jenny is a Zumba instructor.

Other Artists include:-
Nii Black Wander - Traditional Acrobat from Ghana and very experienced performer. Nii has graduated from the Acrobatic school Josephko in Ghana, after which he toured African, Europe, Asia and China. Nii has been a member of various Circuses' across Europe, China and the UK. He studied with the Acrobatic school in the Shaolin Temple in China. Nii is extremely popular with young people who are not only inspired by his amazing skills but also by his ability to relate to them.
Odartey Lamptey - Highly respected Master drummer from Ghana, a very able teacher and outstanding performer
Odartey started his professional career at the age of nine when he made his first tour of the USA with cultural group 'Sensation Wulomei'.
Odartey was later with Ghana Dance Ensemble, at the School of Performing Arts, University of Ghana, Legon.
From there he was employed by the Ghana Education Service in Dodowa, to work in schools and colleges. He also had a group with a friend called 'Unity Cultural Group' and later became Master Drummer in African Personality Cultural Group, Accra joining the Arts Council of Ghana. Odartey has played with many groups in Ghana including Kokovena, Dzadzeloi, Wulomei, Selamta, Ja-Mashie.
In 1988 Odartey came to the UK with Aklowa Drummers and Dancers at The African Village in Bishops Stortford. He then went on to join Adzido Pan African Dance Company. With Adzido he was appointed Principal Drummer. and toured worldwide.
Odartey was the co-founder/member of 'Brekete Drumming and Dance Group' with Henri Nii Boye, and 'Abladei UK'. Odartey and Joe Abbey Mensah taught for many years at Ealing Music Service, London. Odartey now works with Iroko Theatre Company and is also teaching in the Music Department of City University, London.
Please see youtube link:-www.youtube.com/watch?v=PDZCXcoT1Q4
www.youtube.com/watch?v=EFIDLJ_A6P8
Regular Thursday Evening Drumming Class 7pm to 8.30pm
with Jenny Suleman at Stark Hill, Edge, Stroud. GL6 6NR
Ongoing and Drop In. £8 (concessions) per evening.
Phone 01452 812983
One to One Drumming Lessons (or Dance Lessons) with Jenny Suleman
Call Jenny 01452 812983 or mob. 07944867969
Drumming Workshops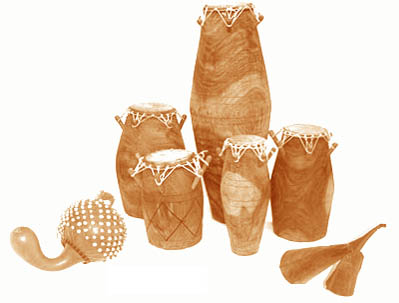 EWE SET

LEARN EWE DRUMMING FROM GHANA
with ODARTEY LAMPTEY
Any interested students, please contact
Jenny Suleman on 01452 812983
Date to be confirmed
At Stark Hill, Edge, Nr Stroud GL6 6NR
AFRICAN DRUMMING COURSES
Enjoy discovering West African Drumming techniques in a cosy, relaxed atmosphere. We will be covering traditional palm drumming, cross rhythms, cowbell & shaker patterns & even a song or two.
Suitable for all levels of drummers, beginners welcome.
THE AFRICAN DRUMMING DAY COURSES
Held near Stroud, Gloucestershire
These day courses are aimed at people with or without drumming experience, who want to sharpen and improve their abilities and learn more about the disciplines of drumming and how to be a good drummer from the practical point of view. The course will raise people's awareness and understanding of different styles, techniques and rhythmic melodies. It is also designed for those who are not confident to express themselves. Please come and drum out what you have within.
We will be covering rhythm construction, creating and improvising and learning how to hold rhythms in a polyrhythmic space. Come and learn how to fit on and off beat together. This is your chance to discover or improve your drumming skills and talent in style. We will be working on rhythms from across Africa.
DATES TO BE CONFIRMED- Beginners and Intermediate - an introduction to techniques and rhythms. Improve and develope yours skills
Each day runs from 10.30am to 4pm
A oportunity to improve your drumming skills. with rhythms, and techniques to enrich your drumming.
Bring your drum
(Drums available to borrow)
Venue - Stark Hill, (off Back Edge Lane),
Edge, Nr Stroud, GL6 6NR
*Click here for further details
BOOK EARLY FOR A PLACE FOR BOOKING DETAILS
CONTACT Jenny Suleman 01452 812983
email akwaaba_mensah@hotmail.com
or jennysuleman@live.co.uk

Camping Space £7 per person if you are coming from
far away or stay at a b & b.
Sale of Drums, Instruments Crafts and Cloth, Repairs to Drums etc
Djembes are readily available and other drums available to order.
Each Djembe is individual and some have goat skins and others are skinned with antelope or cow skin, all giving a varied quality of sound.
We also supply drum covers.
Kpanlogo drums are available to order, as are cow bell and cabassas.
Beautiful African cloth is available to order. Prints, batiks, Adinkra cloth and Kente cloth.
We can supply traditional clothing by order and made to measure.
AFRICAN DRUMS TO BORROW AND FOR SALE
Also repairing and re-skinning drums

Trips to Ghana - can be arranged to suit individuals or groups. Based by the coast near Accra. Based on drumming and dancing and related activities.

Contact
Please contact Jenny Suleman for further information at
Heartbeats of Africa,
Tel/fax 01452 812983
Email: akwaaba_mensah@hotmail.com
or jennysuleman@live.co.uk
Address: Stark Hill, (off Back Edge Lane),
Edge, Nr Stroud, GL6 6NR